MIH Consortium Committee Structure Update 
Published On 2022-08-16
Views 1307
The MIH Consortium officially started operation in
July
2021 and has steadily grown to over 2,400 members. For the alliance to continue providing the benefits of electric vehicle-related innovation and standards development to current and incoming members, MIH Consortium
is
making several changes to its Committee structure and will be initiating the Committee election process in August 2022. The updates are:
Creation of "Advisors to the Board". The role of the

Advisors is to bring

their expertise and resources in the global automotive and tech industry

as MIH enters a new phase to expand footprint globally.

 

 
Initiation of the next term Committee election. MIH Contributor Members can participate in the nomination and election of MIH Committee. This process will strengthen the MIH operational transparency while increasing the Committee's diversity to accelerate the progress of standards and reference designs development in Working Groups.

 
MIH Consortium Structure
The new MIH Consortium is composed of a Board of Directors, MIH office, MIH Committee and Reviewers, and two types of groups: Working and Interest Groups.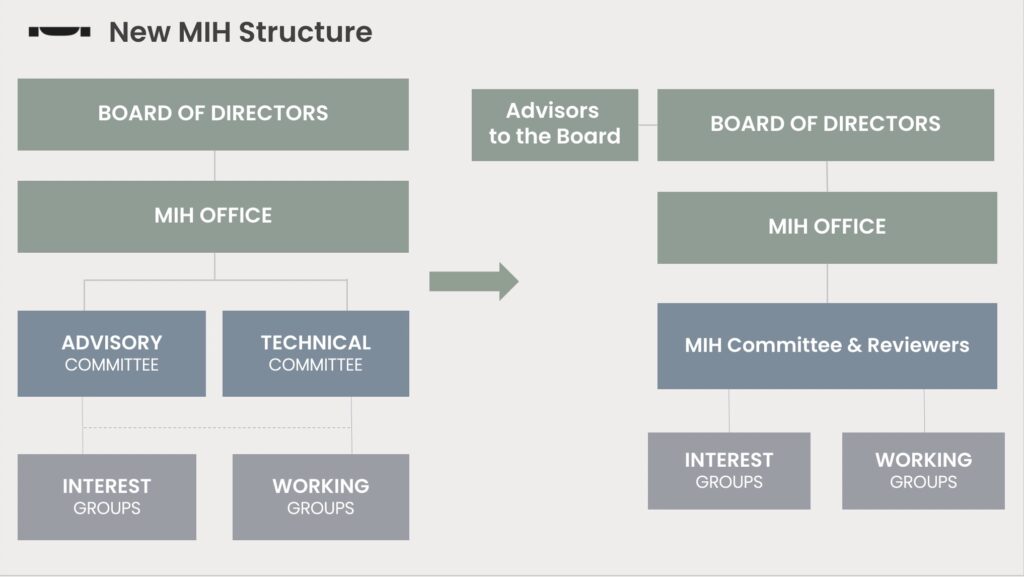 MIH Committee Election Process and Schedule
2022
Aug. 22 - Call for Nominations

 

Sept. 23 - Finalize Nominees

 

Oct. 3 - Election Begins

 

Nov 14 - Announcement of New Committee & Reviewers

 
2023