MIH and the Institute for Information Industry Collaborated on Advancing Vehicle Electrification and AI Technology
Published On 2023-05-31
Views 1044
MIH Consortium and the Institute for Information Industry (III) signed a Memorandum of Understanding (MOU) on the development of vehicle electrification and AI technology on May 30. This collaboration aims to empower sensor component manufacturers and system integration companies with AI perception technology by utilizing the world's first Taiwan Hybrid Vehicle Traffic Street View Training Database (Formosa Dataset), which is the result of the Ministry of Economic Affairs' technology department. The goal is to develop intelligent driving systems and services, a breakthrough of the existing framework of the electric vehicle industry, and become a model for digital transformation, marking a new milestone for AI software collaboration of MIH Consortium.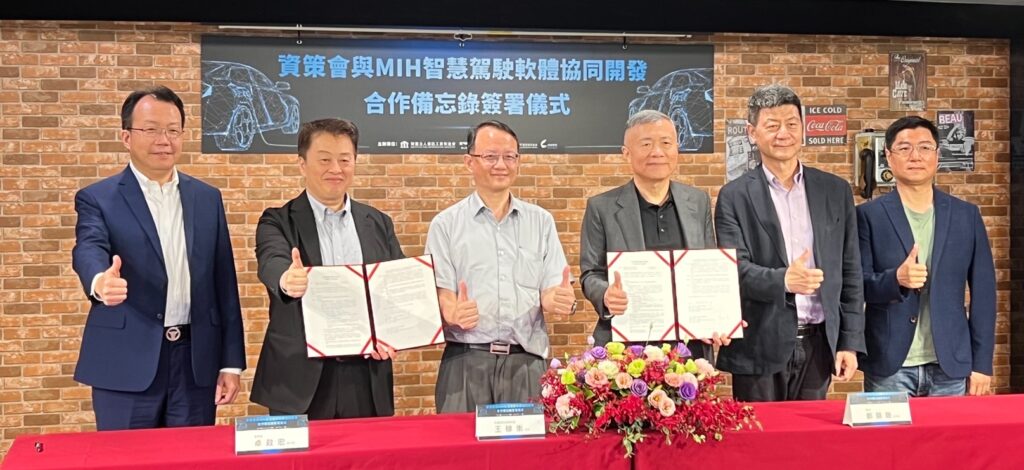 MIH signed a MOU with III on AI software collaboration
The Formosa Dataset enables the development of AI features on electric vehicles as conveniently as developing apps on smartphones through cloud-based data services, development platforms, and simulation tools. This assists the industry in rapid development, cost reduction, and innovative application development. III has utilized AI image recognition technology to develop the world's first "Large Vehicle Wheel Internal Difference Collision Warning and Braking System." The collaboration between MIH and III includes the incorporation of internal wheel difference and safety warnings, making electric vehicle travel safer and providing greater peace of mind for road users. Through cloud-based data sharing in the future, the development of intelligent and convenient transportation services will create a smarter, safer, and greener sustainable transportation environment, bringing continuous progress and prosperity to society. MIH Consortium CEO Jack Cheng believes that AI technology is widely used in vehicle software development and ADAS vehicle electrical systems, such as various vehicle (including two-wheeler) recognition, pedestrian recognition, traffic light recognition, and driver detection systems, ensuring the safety of intelligent vehicles and driving. MIH has invited III to serve as the chair of the Cloud Service, Development Platform, and Tools Working Group, to collaborate with alliance members in establishing software development, simulation, testing, and cloud service-related interface specifications, in order to enhance the integration of vehicle software and hardware and promote the speed of vehicle development. In the future, III and MIH will collaborate to jointly establish development standards and reference specifications with alliance members and related industries. Through the planning of cloud services, development platforms, and tools, they are committed to assisting in the integration of technology in the intelligent vehicle and information communication industries. Under the framework of collaborative development of intelligent driving software, artificial intelligence and vehicle-to-vehicle communication technology will be utilized to achieve the development and integration of intelligent driving systems. This collaboration combines the power of software and hardware to create unique differentiated value for the vehicle industry and drive the digital transformation and continuous development of the electric vehicle industry. With the power of cross-industry cooperation, they aim to create a more outstanding ecosystem for intelligent vehicles.
👉For more information